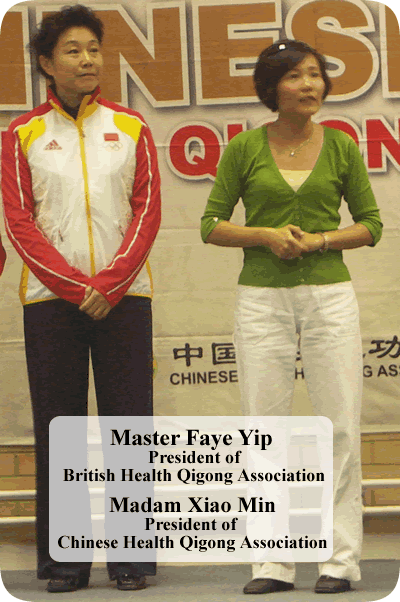 The British Health Qigong Association (BHQA) is a non profit organisation dedicated to the education, training, grading and development of Chinese Health Qigong system in the United Kingdom and beyong.
As the only offical body recognised and approved by the Chinese Health Qigong association China as the governing body for Health Qigong in the UK. The BHQA is committed to support the founding of the International Health Qigong Association (IHQF).
Our organisation has professional instructors in Throughout the UK actively promoting this great system to people from all walks of life. We are also working in close partnership with Chinese Health Qigong Association China, the NHS, Tai Chi Union for Great Britain and many other leading organisations in an effort to promote healthy living, active life and physical and mental well-being to wider community.
We regularly organise workshops and seminars conducted by highly reputable master trainers all over the UK, hundreds of enthusiasts have participated.
The BHQA also represented the UK to attend the international Health Qigong Festival 2009 in Shanghai and put Health Qigong UK firmly in the World Health Qigong stage.
BHQA is a professional organisation holding the highest authority and expertise on Health Qigong in the the UK, and we offer educational programmes:
Seminars and workshops open to enthsiasts of all levels
Healt Qigong programmes for NHS patients suffering from various medical conditions, Arthritis, Osteoporosis, Cardiac vascular problems, MS etc.
Certified Instructor courses for Tai Chi and Qigong enthusiasts, sport and exercises professionals as well as health workers and specialists in the medical field.
Study and exchange trips to China.
We welcome practitioners and enthusiasts of all levels to join us and become a part of BHQA. We offer Associate membership, Instructor membership as well as club membership.
Our Structure:
President - Master Faye Yip
Secretary - Diane Brindley
Executive Members - Master Faye Yip, Diane Brindley, Patricia Dunn, Carol Gascoyne, Beko Gwyono, Maria, Ronnie Robinson,
Article written Aug 2009