British Health Qigong Association is the official governing body and official Instructor training centre for Europe, the UK and Northern Ireland.
We are an executive member of the International Health Qigong Federation / IHQF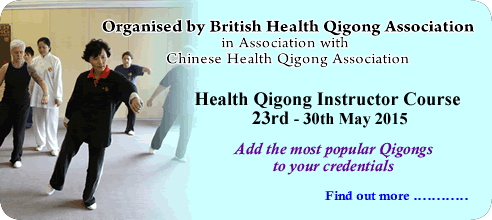 The 7th Annual National Health Qigong Instructor course has come to successful end and 40 more newly qualified instructors are now joined out hundreds of strong teaching team across the UK, Sweden and Europe to promote this fantastic health boosting exercise. Click here to see the Photos of the event.
健康与文化太極氣功之旅
Health & Culture Tai Chi Qigong China Tour
10th April - 24th April 2016
15 Days from £1680.00
including international flights
Lead by One of Europe's leading Tai Chi Guru Master Tary
Cheng Du / Xi'an / Wudang Mountain / Beijing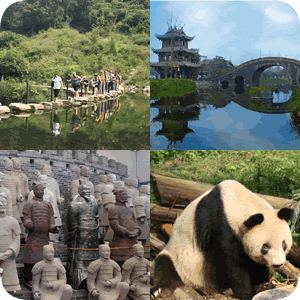 Fantastic Tai Chi &

Qigong

Training with World Respected teachers

Terracotta

Warriors
Meditation on birth place "Mt.

Wudang

"

Giant Panda and ancient on town

Fantastic sightseeing - Thousand year old

Architeture

, Beautiful Mountains, Le Shan Hill Side Buddha Statue.....
There are only limited places left on this trip
book Now to avoid disappointment!!
1st Health Qigong Seminar for International Instructors

13 – 19th December 2011 – Beijing, China

Hosted by Chinese Health Qigong Association

 

By Vicky Ahern & Carol Gascoyne
British Health Qigong Association Instructors

Leaving home to travel across the world to China to learn with many other instructors from around the world, just before Christmas was both an exciting & anxious thought, but an opportunity we simply couldn't miss.   We were given an amazing opportunity to travel to China with Master Faye Li Yip, President of British Health Qigong Association to attend & be part of this seminar sponsored & hosted by the Chinese Health Qigong Association. 

Effects on the Mental Health of Old and Middle-Aged People 

It has been revealed in many foreign studies that mental health problems are quite outstanding in old and middle-aged people. The mental health status of old people will not only affect their own health quality but also

2nd International Health Qigong Seminar for European Instructors

Portugal Oct 2013

 

This was a great seminar hosted by the Portuguse Health Qigong Association in Portugal. our team attended the seminar lead by Master Tary.........Click here for report by our team members

 

 

A Scientific Interpretation of the "Meridian Musculature" System

Ru Kai, School of Acupuncture and Moxibustion, Beijing University of Chinese Medicine

Meridian musculatures are accessory structures of the Twelve Regular Channels in the Channel Theory of traditional Chinese medicine. Huang Di Nei Jing Ling Shu: Meridian Musculatures 13 has recorded the systematic patterns of the start and end points, circulation,